From the Lighting Research Center at Rensselaer Polytechnic Institute:
Troy, N.Y. — The Lighting Research Center (LRC)  has launched the first interactive website to help homeowners, contractors and builders choose the right light bulbs, fixtures and controls to maximize energy savings, calculate lighting costs and achieve lighting effects to meet a wide range of needs in their homes. It also shows how to design safe, healthy lighting for aging adults.
The site, Lighting Patterns for Homes, helps homeowners and others navigate the increasing number of lighting options in today's marketplace and allows them to see how various options will actually look by viewing photo-realistic illustrations created by 3-D modeling software.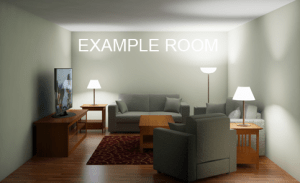 Visitors to the LRC's new website can learn the different ways to light a room, such as a kitchen or living room; compare the benefits of various lighting technologies and equipment, including light-emitting diodes (LEDs); and find out how to use different lighting techniques, such as task lighting or accent lighting.
The site also includes an interactive economic calculator to determine how much money consumers can save with a new lighting design, along with initial costs, payback period, energy savings, and pollution reduction.
Lighting designs are provided for 36 of the most common single- and multi-family residential rooms and spaces, including living rooms, kitchens, dining rooms, home offices, bedrooms, basements, bathrooms, entries, hallways, and exteriors. The rooms are shown both with traditional lighting and with 134 improved lighting designs.
The interactive website is available to the public completely free of charge, and no login or registration is required. It can be accessed from any computer or web-enabled mobile device at http://www.lrc.rpi.edu/patternbook.